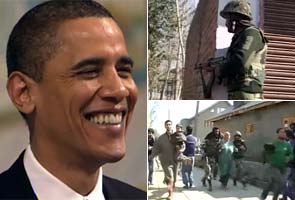 New Delhi: Ahead of US President Barack Obama's visit, intelligence inputs indicate that there are attempts to launch fidayeen attacks in the Valley.
Intercepts and intelligence inputs indicate increased attempts to launch fidayeen attacks and Thursday's attack in Srinagar was indicative of such strategy.
Intelligence agencies believe that the attempt is to raise the temperatures ahead of Obama's visit.
Infiltration is also on the rise and security agencies have been put on high alert to prevent Chattisinghpura-type massacre ahead of Obama trip.
With more attempts at infiltration, Jammu and Kashmir Chief Minister Omar Abdullah has said that the security is being upgraded in the Valley ahead of President Obama's visit.
[Story Source] [Contest win Rs 1000-100,000 now]
This post was submitted by Chinmaya Kumar Nayak.