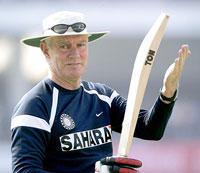 Former India cricket coach and Australia's national selector Greg Chappell has said that his country does not have the liberty to waste talents like India, which has a rich reserve pool. | Australia cannot waste talent like India: Chappell
Fresh from his return to Boston Red Sox and the University of Texas football program to tap into their expertise in identifying talented players, Chappell said, "We're not like India, we can't waste talent."
"They can have a few fall over and there will be someone there backing them up, but we don't have the talent pool they have, so we have to be a lot more efficient," he added.
"I don't think we have to send any message to them. They are mature cricketers, they know what the landscape is and they can't play forever.
"As long as they can bring something to the table, not only the runs or wickets, but the input they can have with the group, they are viable, but at some stage they won't be, that is just a fact of life," Chappell told the Age.
Emphasising upon the importance of regeneration, Chappell said the concept is important but it can come about in different ways.

[Story Source] [Contest win Rs 1000-100,000 now]

This post was submitted by superblogger.