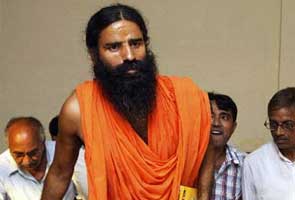 Haridwar: Baba Ramdev, who will declare his assets today to counter allegations that he has illegal wealth, has also defended his controversial call to arms yesterday. (Read: Ramdev to make public details of assets today)
On Wednesday, the Baba had said he would build and train an army of 11,000 men and women to fight corruption and warned the government that the next time there was police action at a protest, his supporters would be armed and would retaliate. He did not climb down completely on Thursday, but was on the defensive when he said he was not "training terrorists or Maoists, but nationalists."
"The words should be used in the right context…I said I will make a force who will not beat anyone but they will not get beaten either," the yoga teacher said, adding, "what is the harm or wrong if I speak about shaurya (valour)?"
Ramdev's provocative comment in Haridwar yesterday caused a political storm in nearby Delhi. He had said: "Twenty youth from each region will come forward for our fight against corruption. They must be dedicated, ready to make the ultimate sacrifice. They will be given arms training. Next time at Ramlila it will be Ravanlila. Let's see who gets beaten up." (Watch)
The government made its stand clear. "It is anti-national and we have to take action," warned V Narayanswamy, Minister of State in the Prime Minister's Office. (Watch) An hour later, the Home Minister weighed in. "I've seen Ramdev's statement. By making that statement he's exposed his true colours and intention. Let him do so and the law will deal with that," P Chidambaram said.
Later on Wednesday evening, a statement issued by his spokesperson SK Tijarawala said that the Baba did not mean training in the use of guns or bombs and that the intention was not to take law in their hands. (Read: Baba Ramdev clarifies arms call)
The government has been caught in a face-off with the yoga icon since the weekend, when it ordered the police to dismantle a massive camp that the Baba had organised – it combined yoga with a sit-in against corruption. On Saturday, the Baba launched an indefinite hunger strike. Hours later, the police moved in and arrested him. The 65,000 people gathered at Ramlila Maidan were teargassed and lathi-charged.
The incident brought together activists and opposition parties who condemned the government for breaking up a peaceful demonstration.
Gandhian Anna Hazare was also on a one-day fast on Wednesday at Rajghat in the Capital to protest against the action at Ramlila Maidan, and to push the government to agree to a new corruption law that's being drafted partly by activists led by him. Mr Hazare- the face of a campaign named India Against Corruption – declared that his movement is a "second freedom movement." (Read: Anna's ultimatum to the Govt) If the government doesn't introduce the new Lokpal Bill by August 15, he warned, he will go on another fast.

[Story Source] [Contest win Rs 1000-100,000 now]

This post was submitted by prashant agarwal.