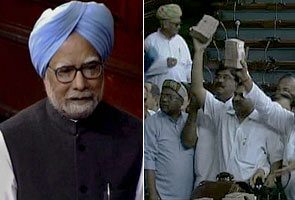 The cash-for-votes scandal rocked Parliament for the second consecutive day, prompting Prime Minister Manmohan Singh to step up and defend the Government. The PM strongly rejected allegations of bribery during the 2008 trust vote.
Addressing both Houses, an assertive Dr Singh said that nobody from the Congress or the government engaged in any "unlawful act" and the charges were "unverified and speculative". The cash-for-votes allegations, the PM said, were being looked into by the Parliamentary committee.
Hitting out at the Opposition, Dr Singh said it was "unfortunate" that it continues to raise the "old charges", giving "dignity" to the "speculative, unverified and unverifiable" communications purportedly between the US Embassy and its government in Washington.
Dr Singh pointed out that UPA-I had won the confidence motion in July 2008 with 275 votes in its favour and 256 against it. "These allegations of bribery were investigated by a committee of the 14th Lok Sabha which concluded that there was insufficient evidence to draw any conclusion," he said.

[Story Source] [Contest win Rs 1000-100,000 now]

This post was submitted by superblogger.