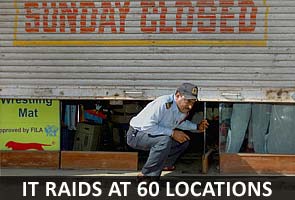 New Delhi: Three-hundred officials are spending the day raiding 60 offices in different cities including Delhi, Kolkata, Bangalore and Mumbai for financial irregularities linked to the Commonwealth Games.
The offices being raided belong to companies who provided services like landscaping and street lighting as well as sports equipment for the Commonwealth Games.
The raids are aimed at unearthing unaccounted income or attempts to suppress profits. In Kolkata alone, 30 offices are being raided.
In the NCR, raids are being reported at the offices of Satya Prakash Constructions, which provided landscaping services for the CWG, and at the offices of Shiv Naresh Sports which provided synthetic track surfaces and sports accessories like tracksuits.
The recently-held event in Delhi was the most expensive Commonwealth Games ever. The Prime Minister's office has promised that those who "shamed the country" through corrupt practices will be punished.
Different agencies including the Enforcement Directorate have been asked to uncover a multitude of financial misdeeds that range from payments being made to companies that don't exist, to contracts that allowed those hired for the Games to get away with severely over-priced equipment and services.
Earlier this month, the offices of four different groups that provided overlays or moveable equipment like treadmills were raided by the income tax. BJP leader Sudhanshu Mittal's house was among the places searched for documents by tax officials. Mittal was a Director for a company owned by his nephew, Vinay Mittal, that won a multi-crore contract for the Games. Mittal says he is being made a political scapegoat. (Read- CWG scam: 30 places raided include BJP leader's home | Sudhanshu Mittal to NDTV: I'm being made a scapegoat)
[Story Source] [Contest win Rs 1000-100,000 now]
This post was submitted by Chinmaya Nayak.