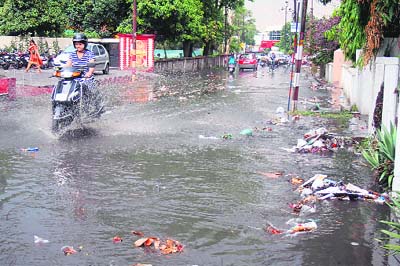 Dehradun, Sep 16 (PTI) The monsoon rainfall this year has broken a 37-year-old record in Dehradun and is headed to break the 39-year-old record as well, officials said today.
The city has so far received 2678 mm of rainfall since June 1 and is just short of 85 mm from the 1971?s record when 2763 mm of rainfall was received by the Doon valley from June 1 to September 30.
"Still a fortnight of September is left and monsoon is active, the possibility of breaking the 39-year-old record seems very high," said Anand Sharma, Director of Met department here.
Significantly Dehradun is among the top cities of India which receive maximum rainfall during the monsoon season.
Nine of the total 13 districts of Uttarakhand have so far received excess rainfall this monsoon season.
[Story Source] [Contest win Rs 1000-100,000 now]
This post was submitted by somya harsh.