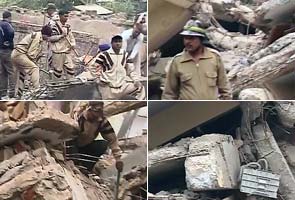 New Delhi: Sixty-four people died and at least 80 others were injured as a five-storey residential building collapsed in Lalita Park in east Delhi's Laxmi Nagar area on Monday evening. More than 30 people are believed to be still trapped under the rubble. (Watch: Focus on getting people out alive, says fire chief)
According to eyewitnesses, at least 400-500 people were staying in the building which collapsed at 8 pm on Monday. (See pictures)
The injured have been admitted to Lok Nayak Jai Prakash, Lalbahadur Shastri and Hedgewar hospitals. (Watch) A special team of doctors has been assigned to treat the injured at all the three hospitals. According to Delhi Health Minister Kiran Walia, at least 20 ambulances have been pressed into action to carry the injured to various hospitals. Walia visited the building collapse site to assess the situation. (Watch)
Delhi Chief Minister Sheila Dikshit and Lt Governor Tejinder Khanna inspected the site on Tuesday morning. "I regret the loss of life. In this area, there has been a lot of unauthorized construction. Builders don't pay attention to safety. This is the Yamuna bed, foundations have to be strong," Khanna said. The CM has promised "exemplary punishment for the guilty." (Watch) | (Watch: More disasters waiting to happen?)
Speaking to NDTV earlier, Dikshit had said, "30 to 40 people are yet to be rescued. I think this disaster happened because of the carelessness of the builder. I will order an inquiry into the incident." (Watch: Sheila Dikshit on building collapse) The builder is untraced. He has been charged with culpable homicide not amounting to murder.
Dikshit also added that mobile phones have been heard ringing under the debris.
The Delhi government has said the foundation of the old building could have weakened due to the heavy monsoon rain this year when the water of river Yamuna flooded the area. Locals said some water was still there in the basement of the building.
"The cause of the collapse, as far as I know, is the high water level of Yamuna in this area," said a resident of the area.
Locals also claimed that construction of an extra floor was going on when the incident took place.
"There was a lot of water-logging. It was carelessness on the government's part. Five floors of the building were already complete. Another storey was under construction. It would have never collapsed if the work to build that extra storey wouldn't have started," said another resident.
A magisterial inquiry has been ordered into the incident. Police said an adjoining building also faced risk of collapse and hence people have been evacuated from it.
Rescue operation continued throughout the night. So far 150 people have been rescued. Huge mounds of concrete slabs and rubble were seen all around as rescuers, helped by the local residents, faced a tough task extricating people from the debris. Eyewitnesses said they heard shouts for help from under the debris. Locals complained that power cut and absence of cranes hampered the rescue efforts initially. A 250-member disaster management team was helping in rescue efforts.
[Story Source] [Contest win Rs 1000-100,000 now]
This post was submitted by Chinmaya Nayak.