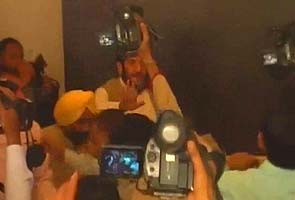 Jammu: Jammu and Kashmir's separatist leader Shabir Ahmad Shah was today manhandled at a press conference in Jammu.
BJP youth workers stormed into the meet and roughed him up, forcing the police to stop the press conference. Five yuva morcha activists have been arrested.
Shabir Shah was yesterday released unconditionally after nine months in jail.
This comes days after similar scenes at a seminar attended by hardline separatist Syed Ali Shah Geelani in Delhi. While no one was arrested, the event sparked off a controversy as BJP accused the Centre to allow sedition by Geelani.
[Story Source] [Contest win Rs 1000-100,000 now]
This post was submitted by Chinmaya Nayak.