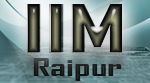 IIM Raipur has released the Short-list for Personal Interview for PGP (2010-2012 Batch). Candidates will need to log in to the official website with their CAT registration number and date of birth to check the list.
IIM Raipur has also released a document explaining the criteria that they have followed for shortlisting candidates for the PI.

[Story Source] [Contest win Rs 1000-100,000 now]

This post was submitted by somya harsh.
One Response to "IIM Raipur PI Shortlist and Shortlist criteria out"