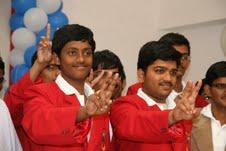 Andhra Pradesh has once again established its supremacy in cracking the prestigious IIT-Joint Entrance Examinations yet again.
Candidates from the state have bagged 40 of the top 100 ranks this year. Also the topmost rank in the general category has gone to the 17-year-old Prithvi Teja from the rural area of West Godavari district.
Unassuming Teja had expected to do well in the IIT-JEE and be among the top twenty rankers but had never dreamt that he was going to be the top ranker and will be flooded by greetings and laudatory messages and good wishes including from the state Chief Minister.
The boy attributed his success to the two mantras of "no tension" and "following your elders".
"If you want to be successful in any thing you do, don't take too much stress," he told us just before he was packing up to fly to Bangkok for the Physics Olympiad.
A product of Vishwabharati School in Gudivada and Chaitanya College, Vijaywada, Teja is the son of a jeweller Srinivas Rao.

[Story Source] [Contest win Rs 1000-100,000 now]

This post was submitted by superblogger.