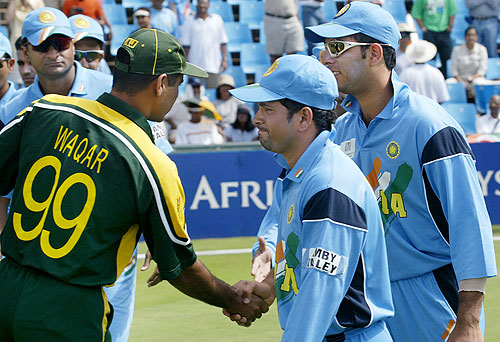 New Delhi: The prince of Punjab did not just announce India's place in the world cup semis with a roar but also set up the first ever India – Pakistan match in either country since the 26/11 attacks and that historic match has not just got Indians excited but also got fans from Pakistan queuing up to get to Mohali.
Indian home ministry has authorised upto 5000 visas to felicitate entry of Pakistan fans into the country.
Sources say multiple entry visas are being issued to those fans who have tickets for more than one match and single entry short duration visa if you have ticket for a single match.
Visa is being issued after verifying the world cup tickets.
Ministry has waived off the mandatory check of Indian references before granting a visa and a proposal to run extra buses from Wagah ferrying fans is also under consideration.
But concerns in the security establishment remain given the terror threat to World Cup that has been acknowledged by both India and Pakistan.
In the past terrorists like 26/11 accused Sajid Mir have entered India in the garb of a cricket fan and disappeared and sources say extra precaution will be taken this time to ensure that fans who come to India leave before their visa expires.
Inspite of security concerns, Indian government has issued thousands of visas but if you have waited till the last moment chances are you will miss out. Security drills are being followed to issue cricket visas and sources say it might take upto 25 days for the formalities to be completed.
[Story Source] [Contest win Rs 1000-100,000 now]

This post was submitted by superblogger.