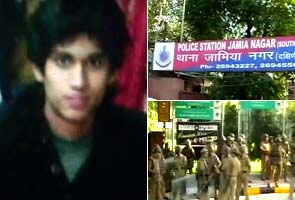 New Delhi: The Delhi Police have arrested two people in connection with the murder of Shahrukh Anwar, the first year Fine Arts student at Jamia Milia Islamia University who was beaten to death on Tuesday.
"We found that four boys were involved in the brawl. We've arrested two of them – Salman and Ejaz," said Rajan Bhagat, PRO, Delhi Police.
"There are these two boys who I had expelled recently as they had been found guilty of harassing girls on the campus," said Nazeeb Jung, Vice Chancellor, Jamia Milia Islamia University.
Shahrukh's family is distraught.
"He had no enemies. He loved studies and sports. He never got into fights and arguments," Shahrukh's father Shaheer Anwar said.
The police are now hunting for the other two absconding accomplices of Salman and Ejaz.
Shahrukh was thrashed so brutally that he succumbed to his injuries. What's shocked his family and friends the most is that this incident occurred in the midst of tight security ahead of the CWG.
"The area is full of cops and commandos pressed into Commonwealth Games duty. Nobody came forward to help him. He was left dying on the road," said Shahrukh's brother, Adil Anwar.
[Story Source] [Contest win Rs 1000-100,000 now]
This post was submitted by Chinmaya Nayak.