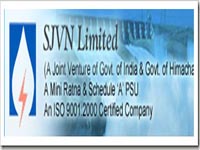 Advt. No. 62/2010; Last Date:15 October 10
SJVN is looking for energetic professionals to join as Jr. Officer (Trainee) in the following areas for its projects in Himachal Pradesh and Uttrakhand:-
Company Secretarial (02)-Intermediate Examination from the Institute of Company Secretaries of India. (Simple Pass),
Human Resources(04)-Graduate with one/ two year Full time Post Graduate Degree/ Diploma in Personnel Management / Social Works / Labor Welfare / Business Management / Office Management / Public Administration with 55% marks for Gen/OBC and 50% for SC/ST/PWD candidates.,
Official Language (03)- Master's Degree of a recognized University in Hindi with 55% marks for GEN/OBC and 50% marks for SC/ST/PWD with English as a main subject at the Bachelor's Degree level.
Desirable-Diploma in Hindi Translation.
Eligibility: Any Graduate
MA
MBA/PGDM
Diploma
Location: ShimlaJob Category:Govt Sector, MBA, OthersLast Date:15 October 10Job Type:Full TimeHiring Process:Written-test.
Age limit : 30 years.
Pay Scale : Rs. 7300-3.5%-12660/-
The eligible candidates will be required to undergo a Written Test at Shimla. The test will be in two parts, Part-I will consist of multiple-choice questions of the relevant discipline and Part-II will consist of multiple-choice questions on Aptitude Test, except for Official Language, for which the Test will include both Objectives and Descriptive Type Questions. Based on the requirement the qualifying candidates will be informed separately to appear for Personal Interview before the Company's Central Selection Board.
Service Agrement Bond :
The selected candidates who belong to General and OBC category will be required to execute a service agreement bond of Rs. 100,000/- to successfully complete the prescribed training and thereafter serve the company for at least 3 years. This amount is Rs. 50,000/- for SC, ST and PWD Category candidates.
How to apply
Application in the prescribed format along with attested copies of testimonials and Demand Draft of Rs. 50/- (SC/ ST and PH exempted) drawn in favour of SJVN Limited payable at Shimla, should be sent only by ordinary post on or before 15/10/2010 to the Senior Manager (Recruitment), Recruitment Cell, SJVN Limited, Himfed Building, New Shimla – 171 009 (HP). The 'Advt. No.' 'Category' and the 'Post Applied For' should be mentioned on the envelope.
Company Profile
SJVN LIMITED, A Mini Ratna Schedule 'A' Public Sector Undertaking after successful commissioning of the country's largest 1500MW Nathpa Jhakri Hydro Power Station in Himachal Pradesh is emerging as a multi-unit 4500 MW company with Hydro Power Projects of 412 MW Rampur, 775 MW Luhri , 1020 MW Khab on river Satluj, 40 MW Dhaulasidh on river Beas in HP, 353 MW in Uttrakhand, 1386 MW in Bhutan and 402 MW Arun-III in Nepal.

[Story Source] [Contest win Rs 1000-100,000 now]
This post was submitted by somya harsh.