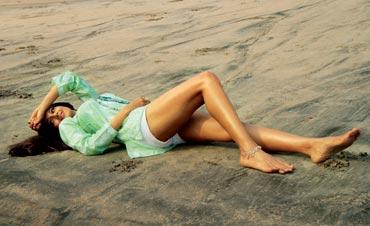 While we're still wondering if John Abraham and Bipasha are done with their 'Dear John' exchanges, the actress is not likely to run out of the broad-shouldered protectiveness that she is used to.
When she was asked if she enjoyed working with the South Indian John Abraham, her co-star in Dum Maro Dum, Rana Daggubati jumped to her rescue with a 'no personal questions' diktat.
Rana told the media, rather sternly if we may add, not to trouble his on screen lover Bips with any personal questions.
It did not end there. Rana stuck to Bips throughout the conference and even afterwards.
Of course, being a friend meant he had to be by her side when she needed him the most. Which, by the way, seems to be most of the times, these days.
An eyewitness told us, "Before the conference began, it was decided that Bipasha will not be asked any questions pertaining to her personal life and John Abraham.
And if anybody still did, the director of the film, Rohan Sippy would take charge of the situation.
However, the moment someone asked her how she felt about working with the John Abraham (Read Rana) of the South Indian industry, Rana spoke to the journalist in Telugu asking him not to ask her questions on her personal life."
"After the conference, in spite of the bodyguards around her, Rana himself started escorting her. Rana told her fans not to get too close to her.
Hyderabad being his own home town, maybe he wanted to show off to her that his word counts," added the source.
While questions about Bipasha's relationship with the real John Abraham still remain unanswered, we wonder what's cooking with the South Indian version… Maybe they are just good friends.
After all, people from the sets of Dum Maro Dum, their film together, did name Rana her '5 am' buddy, after they shared almost every morning meal together.
Or maybe Rana is grateful for all the Hindi lessons Bips gave him and wanted to pay her back. Or maybe, it's about time the dusky damsel opened up and let the real John off the hook.
[Story Source] [Contest win Rs 1000-100,000 now]

This post was submitted by superblogger.