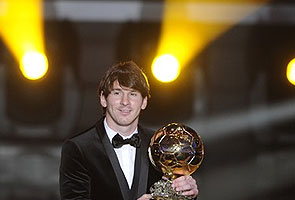 Zurich: Lionel Messi's mesmerizing performances for Barcelona outweighed a disappointing World Cup, ensuring the Argentina forward was named the world's best player of 2010.
Messi won the FIFA award for a second straight year yesterday, finishing ahead of Barcelona teammates Andres Iniesta and Xavi Hernandez.
"It's a very special day for me," Messi said through a translator on receiving the award at a gala ceremony in FIFA's home city.
The 23-year-old Messi amassed 58 goals last year for an exciting Barcelona team which retained the Spanish league title and leads the standings this season. However, he failed to score in South Africa as Argentina exited in the quarterfinals. Iniesta and Xavi, by comparison, starred for eventual winner Spain.
"I didn't expect to win it today," Messi said. "Already it's a source of happiness to be here with my friends and even more to win it."
Messi obtained 22.65 percent of the votes cast by coaches and captains of national teams plus invited journalists. The original shortlist featured 23 players. Andres Iniesta finished second with 17.36 percent and Xavi received 16.48 percent to finish third for the second straight year.
All three candidates honed their craft at Barcelona's celebrated La Masia youth academy.
Barcelona has now provided eight winners in the 20-year history of the FIFA honor. Messi follows former Brazil internationals Romario (1994), Ronaldo (1996 and '97), Rivaldo (1999) and Ronaldinho (2004 and '05).
The award was renamed this year after FIFA merged its world player award with the Ballon d'Or trophy, which had been presented to the best player in Europe by France Football magazine
Read more at: http://www.ndtv.com/article/sports/lionel-messi-wins-fifa-world-player-award-78566?cp
[Story Source] [Contest win Rs 1000-100,000 now]
This post was submitted by Deepti gupta.