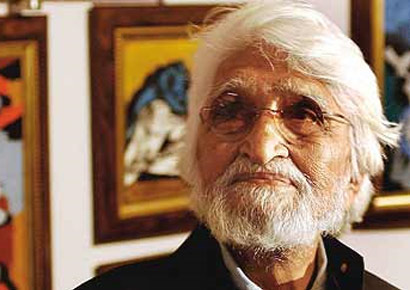 MF Husain had a strong desire to live his last days in India, says noted painter Ganesh Pyne who met him in London three years ago.
Expressing grief at his death, Pyne said, "Husain wished he had breathed his last in India."
He said he had the privilege to see Husain from close quarters and described him as the "tallest among contemporary Indian artists" who immensely contributed to the enrichment of Indian art in the international arena.
Recalling his meeting with Husain in Dubai four years ago, painter Jogen Choudhury said the artist had a special bond with Bengal and did a series on Jibananda Das, Satyajit Ray and Mother Teresa.
He also referred to his random painting at the Tata Centre on Chowringhee Road during Durga Puja which were all erased on the day of Bijaya Dashami to mark the theme of creation and ruin.
"He was a painter who wanted to be in public domain and did not live in isolation. It was unfortunate that he could not live in his own country in the last few years after earning the wrath of fundamentalists," Choudhury said.
He also recalled an occasion 15 years back when Husain was felicitated in Santiniketan during convocation in the Visva-Bharati University and had to be flown in the West Bengal's governor's aircraft to the place after arriving in Kolkata from London at 11 am as the function was supposed to begin before noon.
"We shared a bond and he signed MF Husain in Bengali following my calligraphy style once," he said.
Another well-known artist Ganesh Haloi said a vacuum had been created in the death of Husain who as a creative artist largely contributed in creating awareness for Indianness among contemporary Indian artists.
"Husain had his own entity and never followed others which was well manifest in his great creation 'Horse and Woman' which had been highly inspiring," he said.
Haloi said that Husain's short film Umbrella and feature film Gajagamini starring Madhuri Dixit, Shabana Azmi, Shah Rukh Khan and Naseeruddin Shah had been another facet of the great artist's talent.
Eminent artist Suvaprasanna said Husain was a creative modern artist "whom I knew since 1967 and who established himself as one of the world's best painters from the level of a banner artist".
Suvaprasanna recalled his felicitating the artist in Dubai along with a group of artists and said, "We had an excellent time when he (Husain) sang with us."
He said it was unfortunate that some threat mails to Husain prevented him from returning to his own country.
Veteran artist Sunil Das said, "It is difficult to think that Husain, who is parallel to Pablo Picasso in India, is no more. A powerful artist, whom I found drawing on the footpaths in Delhi in 1965-66, rose to eminence.
"I had hours of discussions with Husain in the studio of Yash Chopra, noted producer-director, in Mumbai when Husain was in India."
Das appealed to the central and state governments to set up a museum for preserving Husain's paintings.