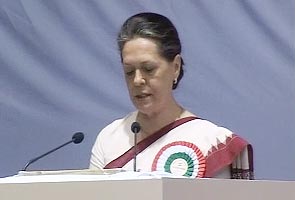 New Delhi: Some of the members of the Congress Working Committee (CWC) could face the axe in the reconstitution exercise of the powerful body, party chief Sonia Gandhi indicated on Tuesday.
"Nominating CWC is a very difficult job. Somebody will complain to say I was left out, why others have been made. Somewhere someone will be left out. Now when you have put trust in me, some of you should be prepared to bear the loss," Gandhi said.
She said this at the AICC meeting which authorised her to nominate the 25-member highest policy making body of the party, making the elections to it scheduled today, redundant.
She remarked in half jest that in Congress "if you remained patient, your turn will come sometime" evoking peals of laughter among the partymen.
The AICC meeting saw several members vociferously demanding that Gandhi be authorised to nominate the entire CWC when party's Central Election Authority chief Oscar Fernandes sought to speak about the schedule.
Earlier, AICC General Secretary Janardhan Dwivedi revealed that several PCCs have requested that Gandhi should herself nominate the CWC.
This was the first meeting of the AICC after Gandhi's re-election as party president for the fourth term.
The 1,000-odd members of the AICC constitute the electoral college for the CWC polls. Of the entire CWC, there is a provision for election of 12 and nomination of 11.
Congress president as well as the parliamentary party leader of the party are always members of the CWC with the party chief heading the key body.
Nominations rather than election is the order of the day in Congress with Gandhi re-nominating a dozen odd PCC president only last week.
There has been no contest for the CWC since Gandhi took over the reins of the organisation in April 1998.
The last two contests for the CWC were in 1997 at the Kolkata Plenary when Sitaram Kesri was the party chief and in April 1992 at the Tirupati Plenary when PV Narasimha Rao was at the helm.
Sharad Pawar and Arjun Singh were the prominent winners during these contests, as also Ahmed Patel and late Jitendra Prasada.
The talk in party circles is that Gandhi is well aware of the problems that Rao and Kesri faced after allowing contests for the CWC.

[Story Source] [Contest win Rs 1000-100,000 now]
This post was submitted by Chinmaya Nayak.