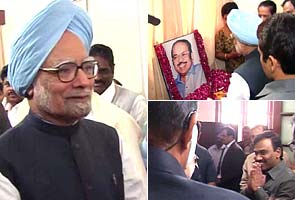 New Delhi: In what can become another controversy, Prime Minister Manmohan Singh was seen patting the back of tainted former Telecom Minister A Raja at a Dravida Munnetra Kazhagam (DMK) function in Central Hall of Parliament on Tuesday.
Raja was forced to resign after a report by the government's auditor found him guilty of costing the country close to Rs. 1.76 lakh crore by undervaluing 2G spectrum in 2008, and circumventing the rules to award the spectrum to companies that he favoured, and who presented incorrect information to win licenses at throwaway prices. (Read: Who is A Raja?)
The Bharatiya Janata Party (BJP) was quick to respond, party spokesperson Prakash Javdekar said that PM's gesture sends a wrong signal as the Supreme Court is still hearing the 2G spectrum scam case.
"At such a time, PM patting Raja's back would appear like some message in itself to the public and wouldn't look good." he said.
Defending the party, Congress spokesperson Shakeel Ahmed said, "Personal relations have no switch off and switch on mode. Raja has been a colleague, investigations are in place and personal relations in their place."
A united Opposition led by the BJP has not let Parliament function this winter session so far mainly over the 2G spectrum allocation issue and has been vociferously demanding a Joint Parliamentary Committee (JPC) probe into the matter. (Read: 2G deadlock: Parliament stalled yet again)
[Story Source] [Contest win Rs 1000-100,000 now]
This post was submitted by Chinmaya Nayak.