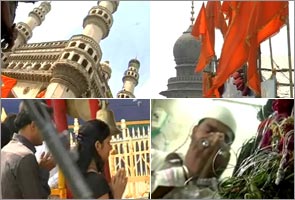 Hyderabad: At a time when India is debating if a temple and a mosque can coexist in Ayodhya, one only needs to look to the 419-year-old monument, Charminar in Hyderabad, for inspiration – a spot where religious structures belonging to both communities have coexisted in peace for the last 150 years.
The goddess at the 150-year-old temple at the Charminar is used to the sea of khaki day in and day out. And more so now, given the tight security in place in Hyderabad's Old city area after the Ayodhya verdict.
But despite all odds, at the Charminar, both the temple and the 300-year-old Muslim religious structure, have said their prayers together for years now. So does it mean that a temple and a mosque can really coexist?
"Definitely. You can see it is here. We are side by side and we have no problems with each other," said Surya Prakash a temple Priest.
Mohammed Bahuddin who comes every Friday to offer prayers at the mosque believes that the place of worship is not restricted to any particular community.
"The public that comes to the temple also prays at this dargah. Atleast 75 per cent of them come here. That shows the Hindu-Muslim brotherhood," said Mohammed Bahuddin.
And this is what makes the Charminar, not just the symbol of Hyderabad but also of religious tolerance.
[Story Source] [Contest win Rs 1000-100,000 now]
This post was submitted by Remya.