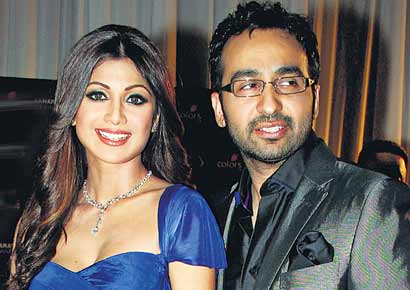 Husband Raj Kundra whisked away his actress wife Shilpa Shetty for a surprise birthday party as soon as she came back to the city after shooting for an advertisement in Madh Island. It was Shilpa's birthday on Wednesday and sources say that she brought in her big day with a private birthday bash that included her close friends and immediate family members.
Shilpa herself was not aware of the plans in store for her big day and when After Hrs got in touch with her she had said, "I am in Madh Island shooting for an advertisement and there's terrible network here, Uff!"
She later on said, "Nobody told me anything before I left (the shoot), so I had no idea about what was happening. But I'll keep you posted," Shilpa said. A family member confirms that there was a surprise waiting for Shilpa as soon as she landed back in the city, with a full- fledged birthday party at her home and then proceeded to a lounge later on.
"The party was planned well in advance. As usual, we wanted the birthday party to be a surprise for Shilpa. Raj wanted to make it special for her, like he tries to every year. But we still don't know what Raj is planning to present her," says a family member who attended the party. The actor turned 36 yesterday. She shares her birthday with another Bollywood beauty, actress Dimple Kapadia.