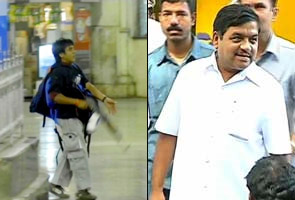 Mumbai: Ahead of the second anniversary of 26/11, Ajmal Kasab received some high-profile visitors in jail today. Kasab was the only terrorist caught alive during the 72-hour siege of Mumbai in which 166 people were killed in India's worst-ever terror attack.
Home Minister RR Patil arrived at Arthur Road jail, where Kasab is kept in a special bullet-proof and bomb-proof cell. Patil was accompanied by the Leader of the Opposition in Maharashtra – the BJP's Eknath Khadse.
Ksaab was pensive when he met the politicians. "The Leader of Opposition asked him (Kasab) how was he feeling. He replied that 'jaisa boya, waisa kata (I have reaped what I sowed)," Patil told reporters later. "More than this, I also did not want to speak (to Kasab)," Patil said.
Wednesday's visit followed concerns raised in the Maharashtra Assembly about the security as this prison after gangster Abu Salem was attacked in July by another prisoner who is believed to be a member of Dawood Ibrahim's gang.
Patil said he found the jail overcrowded. "It has a capacity of 781 inmates but in reality, around 2,000 prisoners are lodged here."
The visit to Kasab's cell has turned into an emotive issue for the city. "What is the need to meet him. Is he a VIP?" asked a young man.
Read more at: http://www.ndtv.com/article/india/reaping-what-i-sowed-says-kasab-in-jail-68038?cp
[Story Source] [Contest win Rs 1000-100,000 now]
This post was submitted by Chinmaya Nayak.