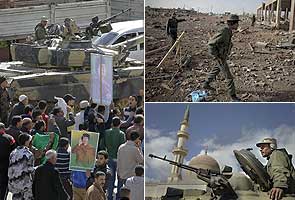 The Libyan military drove rebel forces back along the main coastal road on Sunday, ambushing the advancing militias as they entered the town of Bin Jawwad and pushing them out with tank fire and airstrikes, according to witnesses near the town.
The number of the casualties in the battle was unclear, but it set back the rebels' advance just a day after they celebrated a major victory in taking the vital oil port of Ras Lanuf. On Sunday, rebel leaders said they were regrouping outside that city and would begin pushing toward Bin Jawwad again.
Just outside the capital, a standoff continued in the rebel-held city of Zawiyah, a day after forces loyal to Col. Moammar el-Gaddafi waged a heavy assault toward the city center and then pulled back to close off all roads out.
Rebels in nearby towns said that mobile phone service to Zawiyah had been cut off completely and landline service was intermittent, making it difficult to gather new information about the state of the siege. Second-hand reports through rebel networks on Sunday indicated Libyan army tanks had once again moved into the center of the town.

[Story Source] [Contest win Rs 1000-100,000 now]

This post was submitted by superblogger.