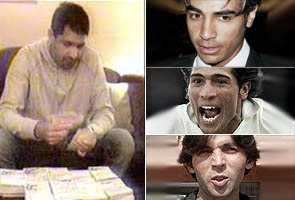 London: The Scotland Yard has submitted proof to the prosecutors, of claims that Pakistan cricketers accepted cash to take part in spot-fixing during a Test match. (Watch: What is spot-fixing?)
The Scotland Yard has given an initial file of evidence relating to conspiracy to defraud bookmakers to the Crown Prosecution Service.
However the investigation by the Scotland Yard will continue.
The Scotland Yard initially questioned three Pakistani players – Salman Butt, Mohammad Amir and Mohammad Asif – on allegations of accepting cash to deliberately bowl no-balls during last month's fourth Test at Lord's.
But a fourth player, fast bowler Wahab Riaz was also questioned on Tuesday.
Butt, Amir and Asif have returned to Pakistan after being questioned by the investigators and provisionally suspended by the International Cricket Council. But the trio has said they will contest the charges.
The ICC has described the allegations as the biggest fixing scandal for a decade.
[Story Source] [Contest win Rs 1000-100,000 now]
This post was submitted by Chinmaya Nayak.