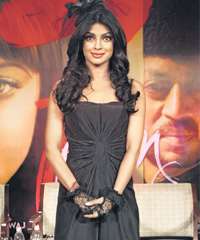 Actor Priyanka Chopra has hitherto maintained a studied silence when it comes to her reported relationship with actor Shahid Kapoor.
In most interviews, she has reiterated that she doesn't like to talk about her personal life (read Shahid). But, on Monday evening at the music launch of her forthcoming movie, the actor finally decided to break her silence on the ceaselessly speculated issue.
"Yes, Shahid was there at my apartment when it (the income tax raids) happened. He lives just three minutes away from my home and it was but natural for me to give him a call when all that was happening. My mother was also supposed to be there but she couldn't make it. So I gave him a call and he rushed to my apartment just as he was (reportedly in shorts)," says Priyanka, talking for the first time about the "traumatic" I-T raids at her Yari Road residence in Versova.
The actor doesn't even bat an eyelid when asked if any black money was recovered from her apartment.
"I initially thought that I would not speak about it at all. But then I issued a statement through my spokesperson and my chartered accountants. Do you want to know if I had kept Rs 6 crore hidden under the mattress of my bed? No, that's not true at all. I have never seen such kind of money. I didn't keep that kind of money at my apartment. I have told everybody (through her earlier official statement) and have even given a complete breakdown (of the money) that was there. I don't think I would need to reiterate that again. I am cooperating with the investigations like a good citizen of the country," she asserts.
Priyanka, whohad earlier been listed as one of the highest tax-payers,admits that the journey from being the highest tax-payer to being investigated for tax evasion has left her shocked.
"I have never faced such a thing in my whole career, but I am told that it has happened to everybody who's famous. I guess I have become famous now. That's not what has upset me. I am deeply hurt and shocked to see how unsubstantiated reports kept on appearing about the raids and they continued to appear even when I went ahead and issued a clarification," rues Priyanka.

[Story Source] [Contest win Rs 1000-100,000 now]

This post was submitted by superblogger.