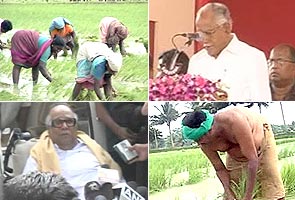 Thanjavur: The sharing of the water of river Cauvery has always been the bone of contention between the states of Tamil Nadu and Karnataka.
This time, Karnataka has refused Tamil Nadu's share of Cauvery water and as a result, around eighty thousand hectares of paddy cultivation is under threat in the delta region of Tamil Nadu.
The farmers in the state are a worried lot and some have even threatened to kill themselves.
"The Tamil Nadu government should get water for us from Karnataka. Otherwise, there will be suicide by farmers'" says Sukumar, a local farmer.
Sukumar, whose land stretches across 30 acres, is not very sure if his crop would survive. Many others like him in Tamil Nadu are equally worried as the storage in the Mettur reservoir is also dwindling.
Although the Cauvery Tribunal has clearly quantified the amount of water due for Tamil Nadu this season, the Karnataka government doesn't seem keen to honour it.
"We have so far received around 80 Thousand Million Cubic (TMC) of water although our quota is around 160 TMC," said V Jeevakumar, District Secretary, Farmers Association.
Observers say the state of Karnataka fills up all its reservoirs and drains just the surplus into Tamil Nadu.
The earlier short-term crop too was abandoned in the delta region due to less water and any crop failure again could ruin the rural economy in the state.
Trying to reassure his state, Tamil Nadu Chief Minister M Karunanidhi said, "We shall do everything legally to get our share of water."
However, AIADMK chief and Opposition leader Jayalalithaa on Saturday charged Karunanidhi with doing little to uphold Tamil Nadu's rights on the vexed issue and demanded his resignation on moral grounds.
Karnataka has challenged the Tribunal's verdict in the Supreme Court even as farmers in the delta region of Tamil Nadu pray for a good North-East monsoon to save the standing crop.
[Story Source] [Contest win Rs 1000-100,000 now]
This post was submitted by Chinmaya Nayak.