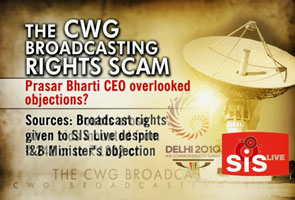 New Delhi: Corruption seems to have been embedded in every part of the Commonwealth Games. After a series of reports on possible foreign exchange violations, income tax fraud, and payments being made to companies that don't exist, come new suggestions that the broadcast rights deal, worth nearly 250 crores, seems suspect.
Sources say that the company that won the broadcast rights contract – SIS Live – was formed in January 2010, four months after bidding for the contract had ended. The company presented a fake registration number and an invalid service tax number.
Sources involved with investigating the contract say the company appears to have been set up at the last minute expressly to win the contract for the Games.
They say they also have evidence that proves SIS Live sub-contracted its deal to another Delhi-based company, whose office space it shares.
In an internal note, a member of the Prasar Bharti, reportedly suggested that payments to SIS be withheld till the company was thoroughly investigated. However, the senior-most rung of the Prasar Bharti, including Chairman BS Lalli are alleged to have over-ruled this to deliver the company 150 crores.
Speaking to NDTV, Lalli denied any impropriety in either awarding the contract to or paying SIS. "Whatever has been done has been done in totally proper correct and valid manner," he said.
"It is Incorrect to state that anybody in the organization said that the payment should not be released. There is an apex group – made up of senior officers in corporation – I am chairman of that group – that group took decisions. For the release of payment, there was a direction given by Finance Wing to senior general manager that while the payment is released, an amount on account of service tax liability be withheld.
When this matter went to DG of Doordarshan, she sought my intervention and stated that she would like amount be withheld at last stage of payment because payment is not made in one go
I saw the DG's noting and the finance official's noting to DG, and said it is not for us to interfere in matter of service tax, but because we are keen that no liability come on us, I said if at all there is need for it, we could do it in October after the Games (last payment was due in November)."
When asked about the questionable legal status of the firm, Lalli said that it was he who noticed a problem with service tax number. He said that he then told officials "they should have been more careful." Lalli also stressed "I am told they do now have valid service tax number. Any other queries on this should be addressed to service tax department."
Lalli said that the contract with SIS was signed in March 2010 with the consent and supervision of the Ministry of Information and Broadcasting.
About Prasar Bharti
Prasar Bharti is an autonomous corporation of the Ministry of Information and Broadcasting. Both Doordarshan and All India Radio come under it.
Prasar Bharti Corporation was set up in 1997 to give autonomy to government-owned broadcasters.
[Story Source] [Contest win Rs 1000-100,000 now]
This post was submitted by Chinmaya Kumar Nayak.