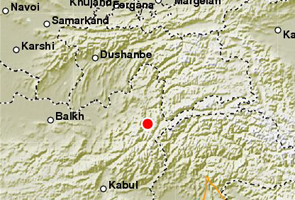 New Delhi: Tremors were felt at early hours today in several parts of north India, especially in Jammu and Kashmir, after an earthquake of moderate intensity hit the Hindukush region in Afghanistan.
The quake measuring 6.5 on the Richter scale hit the Hindukush region at around 00:51 hrs IST, the Indian Meteorological Department's (IMD) Seismology unit said.
It said the tremors were felt in several parts of North India, especially in Jammu and Kashmir, given its proximity to Afghanistan.
The department said mild tremors were also felt in some parts of the national capital.
However, there were no reports of any damage.
[Story Source] [Contest win Rs 1000-100,000 now]
This post was submitted by somya harsh.