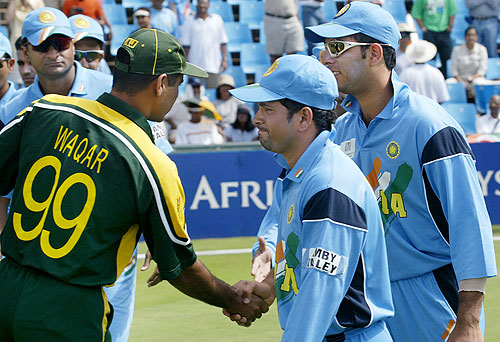 After the miserable disappointment of the Windies' flaccid display against Pakistan, this World Cup came joyously to life during Thursday's absorbing slug fest between two of the tournament's big beasts.
India and Australia traded blows toe to toe for the best part of a 90-over spell which featured a brilliant ton from Ponting, yet more wizardry from my bowler of the WC, Zaheer Khan, another composed half century from Tendulkar and some inventively panicky running from Gambhir. At 187-5, though, the Indian goose looked cooked and it took a fabulous innings from Yuvraj Singh whose form continues to impress, and a truly diabolical over from Shaun Tait who made Shoaib Akhtar look the very model of parsimony, to tilt the scales in favour of the hosts.
India's ultimately comfortable 5-wicket win had the merit of finally prising Australia's grip from the Cup after 12 years and in so doing, heralding an era of sunshine and plenty across a new happier Earth. Men, women and children danced in the streets as the chains of Aussie servitude were finally loosed and songs of freedom sung across the planet. In addition, India's heroic slaying of the Aussie Leviathan has set up the match that all the security services dread but every fan can't wait to see when Pakistan take on the tournament hosts next week in the semi finals. But before we can anticipate that delicious clash we have what may be one last chance to glimpse the mercurial vagaries of the tournament's entertainers and wild card team. Yes, England are back in town, no doubt determined to induce near fatal coronaries on their long-suffering supporters as they continue their perverse quest to monopolise the post World Cup highlights DVD.
Of the five matches they've been involved in so far, I calculate they've played well for around 78 overs in total, yet remain unbeaten against the top sides. With the exception of Andrew Strauss, Jonathan Trott, Graeme Swann and possibly Tim Bresnan, none of their players look in any kind of form. The composition of the team is constantly changing to the point where no one can be certain who the opening bowlers will be or what the batting order will consist of, and the game plan in the field seems to amount to no more than an attempt to stay in the game and hope for random bursts of unpredictable success generated by the follies of their opponents.
It may not be a textbook approach to one-day cricket but somehow it appears to be working as none of the top teams has yet found a way to kill off England's persistent if erratic challenge.
But Sri Lanka on their home turf in a knock-out match will surely present a stiffer challenge. They've begun to find their form with Sangakarra and Jayawardene warming up nicely and were my tip from the start to win the tournament. They possess probably the second-best top order in the competition after India and together with Malinga, Murali, Mendis and Matthews have the balance to kill off England once and for all.
[Story Source] [Contest win Rs 1000-100,000 now]

This post was submitted by superblogger.