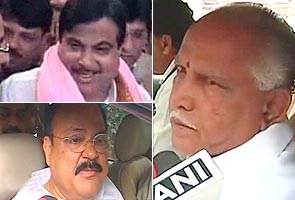 New Delhi: After meeting with the top brass of his party today, BJP President Nitin Gadkari has announced he will take a final decision on Yeddyurappa on Wednesday morning at 11 am.
"I have completed discussion with all the leaders and will take a final decision on Yeddyurappa tomorrow morning at 11 am," said Gadkari.
The BJP president added that he will meet Yeddyurappa later tonight.
After days of combat, the Karnataka Chief Minister appeared ready for a truce this morning.
"I will obey the party," said Yeddyurappa (Watch), which is a broad hint that if the BJP's top-most leaders insist on his resignation as Chief Minister of Karnataka, he may oblige.
But Yeddyurappa's political lifeline may be extended.
Party sources say that most of the BJP's Members of Parliament from Karnataka have told the party that Yeddyurappa should not be fired on the basis of allegations by the Opposition. (Read: Karnataka BJP MPs pledge support to Yeddyurappa)
At the BJP's parliamentary party meeting this morning, MPs suggested that this is not the right time for the chief minister's exit – panchayat elections are around the corner, and Yeddyurappa's dismissal could signal to a party besieged by infighting that dissent can win the day.
The chief minister is accused of misusing his office to grant prime property in and around Bangalore to his family members and companies linked to them. The Opposition in Karnataka, headed by HD Kumaraswamy of the JD(S), has been releasing a barrage of documents that show how Yeddyurappa denotified or "unlocked" government land that was reserved for public projects to benefit his family.
He announced last week that his family would return the land. He has also asked a retired judge of the Karnataka High Court to look into all allotments of government land made in the last few years.
Yeddyurappa's new offering to follow the party line is in sharp contrast to last night when he said, upon arriving in Delhi that nobody has asked him to resign.
Yeddyurappa has reportedly told the party that he cannot be removed – he says he delivered the state to the BJP on the basis of his mass appeal. He has also been able to prove that the majority of the MLAs in Karnataka back him. (Read: BJP's Yeddyurappa dilemma)
Today, he said emphatically that he was "not blackmailing anyone," and that he had done no wrong and that he had not set any conditions. "Today I am going to meet all our national leaders…whatever decision our national leaders are going to take for me I am going to obey…but so far nobody has asked for my resignation," he said.
Yeddyurappa then met senior party leader Venkaiah Naidu this morning and the latter too said that Yeddyurappa "is a people's person and will not defy the party."
Sources have told NDTV that Yeddyurappa's defiance is being seen as posing a huge threat to the political authority of the BJP leadership. The party wants Yeddyurappa to go as this will strengthen its anti-corruption campaign against the UPA. As Yeddyurappa made clear on Monday night that he expected to continue as Karnataka Chief Minister, the Congress poured scorn on him, pointing to what it called the "double standards" of the BJP on corruption. (Watch: Congress' CVC conundrum, BJP's Karnataka compulsion)
While the names of contenders for Yeddyurappa's likely successor are doing the rounds, the BJP would also like to avoid a succession war that could hurt the party's image further. (Read: Who will replace B S Yeddyurappa?)
[Story Source] [Contest win Rs 1000-100,000 now]
This post was submitted by Chinmaya Nayak.